UPDATED PICTURE 12/27/06
Lad strutting in the yard...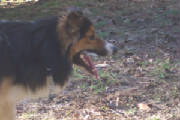 Side view of Lad
Lad is a very well bred tri-saddle-sable, tip eared, male. He has over 5 champions in his pedigree! Including but not limited to: *##Imp. Nan ABC 77943, #Mirk ISDS 96612, ## Imp. Craig ABC 142668, ##Spot ISDS 161819, ##Zac ISDS 66166, and 2005 working dog of the year @@Imp. Dale ABC 50469.
He is truly a great all around dog. He is a great companion and is very affectionate, but at the same time he is very tough on stock. We are very pleased with Lad as he is a quick learner and excellent herder! I like him a lot; he has it all! Looks, Smarts, Herding ability, personality, intensity, and love to share!