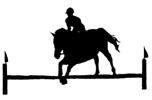 Welcome to Centaur Riding School

Please read this page thoroughly prior to enrollment.

My lesson program is based on providing a safe and enjoyable learning environment with horses for children and adults. In addition to riding skills my program develops and strengthens awareness, focus, leadership skills, team spirit, confidence, coordination, and courage, as well as provide an opportunity to make new friends and have fun together sharing our common passion for horses.




I teach beginners through advanced students a balanced seat approach to Hunt Seat Equitation and Jumping incorporating Dressage into every lesson which enhances any form of riding. I also emphasize horsemanship skills and equine care.




Please read the following agreement carefully. It contains my expectations and requirements in order to be a part of the lesson program at Centaur Riding School.




ENROLLMENT



By enrolling in this program, I reserve a weekly time slot for you in my schedule. I also reserve a horse for you for that time. It is your responsibility to attend your lessons.

You are responsible for paying a monthly tuition based on the lesson price multiplied by the number of lesson days in that month. You must pay for the total tuition, regardless of whether you attend the lesson or not in order to stay in the program. If you notify me, preferably with 24-hour notice, we can arrange a make-up lesson.

A completed Student Information Form and signed Hold Harmless Agreement are required to enroll. You may access both documents at the bottom of the page. Please bring completed and signed documents to your first lesson.


TUITION and LESSONS

Rates are as follows:

| | | | |
| --- | --- | --- | --- |
| | | | |
| | | | |
| | | | |
| | | | |
| | | | |
| O-H | | 1 hour | |
*Rates are subject to change.
Students will be invoiced monthly on around the 15th of the previous month with payment due by the 1st. A late fee of $50 will be charged the following month for tuition received after the 5th of the month

No refunds will be given (only make-up lessons).

I try to schedule similar students together considering age and ability.

If you would like to take two lessons per week, or an extra or private lesson in the month, please let me know and I will be happy to arrange a time.

Lesson time may be adjusted if one student is absent from the lesson.



RESPONSIBILITY OF STUDENT (and parent)



Students are responsible for arriving at each lesson at least 15 minutes (preferably 30 minutes) prior to their scheduled lesson time and should allow 15 minutes following each lesson (possibly more in the summer to cool out and bath horses if necessary. Students need to let me know when they arrive then check their horse assignment on the schedule.

Students and parents who have been trained by me to tack a horse may do so. It is always my goal to teach students (and parents when applicable), who are capable and age appropriate to tack up independently. That way they can arrive early and have the horse tacked up and in the ring at lesson time.

Lesson duration includes getting the horse tacked and untacked for beginners.

Students are responsible for having correct riding attire: helmet, crop, and preferably riding breeches/jodhpurs and appropriate riding boots.

Students are responsible for returning their assigned horses tack to the proper place following each lesson.
Students are responsible for cleaning up after themselves and their horse.

A deposit in the amount $100 is required upon entering the program. It will be refunded as a deduction if you decide to discontinue your lessons with 30-days notice.



LATE TO LESSON



If a student is late, and the class has already began a late beginner student can watch the lesson but will not be able to ride. In this case, the student will not receive a make-up lesson. An intermediate or advanced rider can tack up on their own and join the class in session.



MAKE-UPS
Make-up Lessons are scheduled in between your regular lessons.

Twenty-four hour notice is necessary to receive a make-up (Unless due to illness).

A make-up may be with another student if typically ridden as a private and should be arranged during the same month as the miss, preferably the week prior or following.
NOTE:

Vacations, school trips, family functions, etc. are often scheduled months in advance. Please let me know ASAP so I can fill your empty spot with another student needing a make-up and so we can schedule your make-up as soon as possible.

WITHDRAWING FROM THE PROGRAM

RULES OF BARN



Parents watching lessons are not allowed in the rings unless otherwise advised by the instructor. Except for emergencies, parents should avoid interrupting or distracting lessons.

An adult must supervise all children not riding in a lesson.

For safety reasons, all children/people who act inappropriately will be asked to leave (i.e. throwing rocks, running, screaming, etc. which might spook the horses).

All dogs must be on leashes and behave (not bark or run around).

No dogs or baby carriages are allowed in the barn.

Occasionally, a school horse may misbehave. I will attempt to correct the behavior, and if the horse's behavior does not improve, I may finish the lesson in the barn or have the rider share another horse. This is a very rare occurrence but is for safety reasons.



BAD WEATHER CANCELLATION POLICY

We are not fortunate enough yet to have a covered area so the following protical will be followed regarding bad weather cancellations. Only in the case of extreme weather such as lightening and thunder or heavey rain will a class be canceled. Normally with lite rain, classes can take place or be slightly postponed. Please don't assume a lesson will be canceled. I will always contact you with at least 30 minutes notice in advance if I do decide to call off a lesson. I also reserve the right to hold a barn lesson in place of a riding lesson if conditions worsen without warning. Barn lessons might consist of lecture, illustrations, printed materials and hands-on activities.




HOLIDAYS




Most often I choose not to instruct on holidays because most students and their families go out of town. Tuition is still paid for that week and a group event or clinic is planned in place of individual riding lesson. These will take place most often the week prior to or following the holiday. Holidays considered for group activities are: New Years Day, Easter, Memorial Day, Independence Day, Labor Day, Thanksgiving and Christmas. I will always inform you months in advance as to whether or not I'll be instructing and if not, what activity is planned in it's place and when.

* * * * * * * *

If you have any questions, please feel free to contact me anytime at home at (770) 466-2934 or on my cell (404) 664-7492, which I carry with me at all times.

I look forward to assisting you to meet your goals and dreams as an equestrian and horse enthusiast at Centaur Riding School.


Happy Trails!!


Susan Abel

* * * * * * * *